The Quality Inn Hotel Fountain Of Well Wishes:
For more than 50 years, Hollywood Motor Lodge was known as a cozy little getaway in Hollywood, Florida. In 2003, developers acquired the property and began to convert it into today's Quality Inn and Suites, a boutique motel on the boulevard with exceptional guestroom amenities. To complement the guestrooms, the developers sought to create an appealing outdoor ambiance that guests would find memorable long after their visit.
They located an artist who had designed a beautiful fountain—an exact replica of one in the city of St Augustine, Florida. In December, 2004, the fountain and its entry archway were installed, transforming the Inn's courtyard. Some folks believe that the fountain has mystical powers, and grants the wishes of those who visit here. It is believed that those who present their wishes and prayers with faith—by placing a coin on their heart as they make a wish, then gently tossing it into the water—may have their wishes granted.
Four benches surround the fountain, and each is identified by a special attribute: The Bench of Love, The Bench of Peace, The Bench of Health, and The Bench of Abundance. It is believed that those who sit on each bench will receive the attribute it bears. Encompassing the fountain and its benches is very special garden that imparts feelings of peace and tranquility to all who take a moment to rest and reflect there. Many have returned to the Inn and told us that their wishes have been granted, and that the attributes of each of the benches had been bestowed upon them.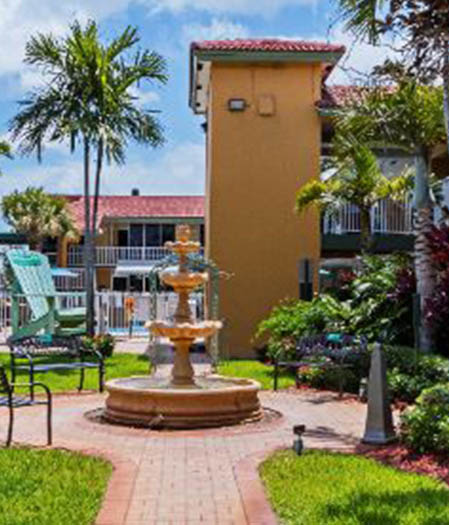 The Bench of Love: Love: A profoundly tender, passionate affection.
The Bench of Peace: Peace: A state of tranquility or serenity.
The Bench of Health: Health: Soundness of body or mind; freedom from disease or ailment.
The Bench of Abundance: Abundance: Overflowing fullness, affluence or wealth.